Pilze-Wunderland on air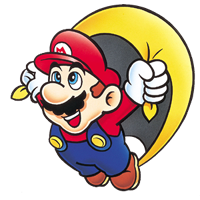 Artwork von Cape-Mario aus Super Mario World • © Nintendo
Pilze-Wunderland on air, das ist Radio direkt aus dem Pilz-Königreich! Die Sendung läuft jeden Montag Abend von 21:00 Uhr bis 23:00 Uhr auf Kibo.FM, und zu hören gibt es alles, was das Herz eines Nintendo-Fans begehrt. Aber hört doch einfach mal selbst rein. Ihr erreicht den Sender unter www.kibo.fm.
Hier ein kurzer Überblick die einzelnen Bestandteile der Sendung:
---
Nintendo Music Charts
In den Nintendo Music Charts gibt es jede Woche eure beliebtesten Nintendo-Songs zu hören. Ihr könnt hier selbst abstimmen und ausserdem Newcomer vorschlagen - denn jede Woche fliegen die drei unbeliebtesten Songs raus, während dafür drei neue Musikstücke dazu kommen.
Hier könnt ihr immer die aktuellen Charts nachlesen:
Chikorita - Mario Deathmatch
Zelda: The Wind Waker - Dragon Roost Island
Giorgio Vanni - Oltre I Cieli Dell'Avventura (2. ital. Pokémon-Intro)
Julian Feifel - Pokémon Johto (Movie Version)
Zelda: Skyward Sword - Song of the Goddess
The Secret of Monkey Island - Opening Theme & Introduction
brentalfloss - Luigi's Mansion 3 with Lyrics
Newcomer: Banjo Kazooie - Weihnachtstal
Newcomer: Mario Kart 64 - Kalimari Desert
Newcomer: Ambassadors of Funk - Super Mario World
Zum Voten: Klick!
---
Nintendo Game Charts
In den Nintendo Game Charts erfahrt ihr, was die beliebtesten Nintendo-Spiele der Woche waren. Für die Nummer 1 gibt es immer viele Infos und noch viel mehr Musik. Live mit bestimmen könnt ihr übrigens ganz einfach hier: Klick!
Und hier könnt ihr immer die aktuellen Charts nachlesen:
Bishoujo Senshi Sailor Moon: Another Story
Hyrule Warriors - Zeit der Verheerung
Fire Emblem - Three Houses
Zelda - Breath of the Wild
Trials of Mana
Pokémon Go
Zelda - Skyward Sword
Newcomer: Hammerin' Harry: Ghost Building Company
Newcomer: Zelda - Ocarina of Time
Newcomer: Super Mario 64
Zum Voten: Klick!
---
Nintendo Quiz
Im Nintendo Quiz erwarten euch jede Woche fünf Fragen zum Thema Nintendo. Ihr könnt die richtigen Antworten einschicken, und der erste mit den meisten richtigen Antwort ist der Champignon der Woche.
Zum Trainingslager: Klick!
---
Hörbuch Heroes
In der Rubrik Hörbuch Heroes gibt es exklusive Hörbücher zu hören - entstanden nach Fanfictions zu Super Mario, Pokémon und anderen Nintendo-Helden. Jede Folge dauert etwa 10 - 20 Minuten und setzt die Geschichte spannend fort.
Unsere unverbindliche Planung sieht wie folgt aus:
07.04.2014 - 26.05.2014 :: 30 Jahre später
02.06.2014 :: The Badge is a Lie
09.06.2014 - 07.07.2014 :: FC Pokémon (in Zusammenarbeit mit MMM)
14.07.2014 - 22.09.2014 :: Würfelwelt
29.09.2014 - 10.11.2014 :: Der Tausch der Bösen
17.11.2014 - 15.12.2014 :: Das Märchen des eisigen Vogels
22.12.2014 :: Max' erster Schnee
05.01.2015 - 25.05.2015 :: Die Forum-Ritter
30 Jahre später zum Nachhören auf Youtube:
Hinweis: Das folgende Video wird von Youtube eingebunden. Wenn Sie das Video starten, werden gewisse Daten an Google übertragen. Weitere Informationen hierzu finden Sie in der Datenschutzerklärung.
---
Spotlight on Character
Bei Spotlight on Character wird jede Woche ein Character aus dem Nintendo-Universum gross vorgestellt. Alle Infos könnt ihr immer nach der Sendung hier nachlesen. Ein Grund, um trotzdem live dabei zu sein, ist aber, dass es in der Sendung auch Musik zu dem entsprechenden Charakter gibt.

Bisher waren die folgenden Charaktere dran:
---
Spotlight on Game
Nach Spotlight on Character gibt es ab jetzt Spotlight on Game: Hier wird jede Woche ein Nintendo-Spiel vorgestellt! Einschränkungen gibt es dabei kaum, es können alle Konsolen und Genres dran kommen, auch das Alter des Spiels ist egal. Hier könnt ihr alle unsere Mini-Reviews noch einmal nachlesen. Live in der Sendung gibt es allerdings auch immer viel Musik aus dem jeweiligen Spiel zu hören.

Bisher waren die folgenden Spiele dran:
---
Gamer Gespräche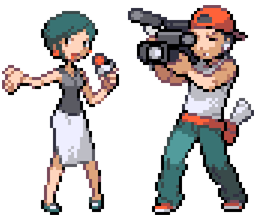 Sprites der Reporter aus Pokémon Diamant & Perl, stark vergrößert • © Nintendo, Creatures Inc., GAME FREAK inc.
Bei den Gamer Gesprächen ist eure Meinung gefragt! Immer am ersten Montag eines Monats geben wir euch ein bestimmtes Thema im Bezug auf Videogames vor, zu dem ihr euren Kommentar posten könnt. Alle Meinungen werden live in der Sendung vorgelesen, dazu gibt's thematisch passende Musik.
Das aktuelle Thema findet ihr immer in Kibo-Forum, und dort könnt ihr dann auch direkt eure Meinung posten: Klick!
Das waren unsere bisherigen Themen:
Super Mario Bros. 35 / Zeitliche Limitierung bei Spielen (05.04.2021)
The Legend of Zelda (01.03.2021)
Euer Spiel des Jahres 2020 (04.01.2021)
Eure Lieblingsstrecke in Mario Kart (07.12.2020)
Spiele mit spezieller Hardware (02.11.2020)
Mario Kart (05.10.2020)
3D-Jump'n'Runs (14.09.2020)
Pokémon-Anime (03.08.2020)
Free to Play (06.07.2020)
Shantae (01.06.2020)
Euer Pile of Shame (11.05.2020)
Eure coolste Videogame Retro-Geschichte (20.04.2020)
Mystery Dungeon (09.03.2020)
Pokémon: Einzel- oder Doppelkampf? (03.02.2020)
Euer Spiel des Jahres 2019 (06.01.2020)
Das perfekte Spiel für die Weihnachtszeit (09.12.2019)
Schwert oder Schild - Was wählt ihr? (04.11.2019)
Eure Wunsch-Videogame-Verfilmung (02.09.2019)
Pokémon Schwert & Schild - Eure Erwartungen (15.07.2019)
Urlaub in der Videogame-Welt (03.06.2019)
Spiele von Rare (25.03.2019)
Mobile Games (11.02.2019)
Euer Spiel des Jahres 2018 (14.01.2019)
Super Smash Bros. (03.12.2018)
Animal Crossing (01.10.2018)
Neuauflagen (03.09.2018)
Musikspiele (06.08.2018)
Drei Spiele für die einsame Insel (09.07.2018)
Das beste Team in Pokémon Go (14.05.2018)
Welche kommenden Spiele habt ihr im Auge? (12.03.2018)
Nintendo Labo (12.02.2018)
Euer Spiel des Jahres 2017 (11.12.2017)
Sammelspaß (06.11.2017)
Fehlende Spiele auf dem SNES Classic Mini (02.10.2017)
Rabbids (04.09.2017)
Pokémon Fan-Hacks (07.08.2017)
Das Super Nintendo (03.07.2017)
Neue Mario Kart 8 DLCs (01.05.2017)
Nintendo Switch (03.04.2017)
Fire Emblem (06.02.2017)
Euer Spiel des Jahres 2016 (09.01.2017)
Spiele mit guter Herbst-Atmosphäre (31.10.2016)
Der beste Videogame-Geist (03.10.2016)
Ein neues Pokémon (05.09.2016)
Pokémon Go (01.08.2016)
Spiele in fremden Sprachen spielen (04.07.2016)
Spiele mehrfach durchspielen (06.06.2016)
Yo-Kai Watch (02.05.2016)
Beat'em Ups (21.03.2016)
20 Jahre Pokémon (08.02.2016)
Mario & Luigi oder Paper Mario? (04.01.2016)
Euer Spiel des Jahres 2015 (07.12.2015)
Brettspiel-Umsetzungen von Videogames (02.11.2015)
Club Nintendo (05.10.2015)
Level-Editoren (07.09.2015)
Lego (03.08.2015)
Das beste Sommerspiel? (06.07.2015)
Arcade / Spielautomaten (15.06.2015)
Rollenspiele (04.05.2015)
Aufbausimulationen (06.04.2015)
Euer Wunsch-Charakter in Super Smash Bros. (09.03.2015)
Euer Lieblings-Gegner (23.02.2015)
Euer Lieblings-Liebespaar (16.02.2015)
Endings (09.02.2015)
Unterwegs oder zu Hause? (02.02.2015)
Fan von Entwicklungsstudios (26.01.2015)
Disney (19.01.2015)
Minispiele (12.01.2015)
Lebenssimulationen (05.01.2015)
Euer Spiel des Jahres 2014 (15.12.2014)
Erster!! (24.11.2014)
Digimon (10.11.2014)
Retro Gaming (03.11.2014)
Halloween (20.10.2014)
Let's Plays (13.10.2014)
Super Smash Bros. (06.10.2014)
Kirby (29.09.2014)
Nintendo-Comics und -Mangas (22.09.2014)
Sammelkartenspiele / Trading Card Games (15.09.2014)
DLCs (08.09.2014)
Indie-Spiele (01.09.2014)
Videospiel-Konzerte (25.08.2014)
Eurobeat (16.08.2014)
Street Pass (11.08.2014)
Das Erste, das Letzte, das Nächste (04.08.2014)
Mario Party (28.07.2014)
Mods und Hacks (21.07.2014)
Conventions (14.07.2014)
Die einsame Insel (30.06.2014)
Fussball (23.06.2014)
Merchandise-Mania (16.06.2014)
Mario Kart (09.06.2014)
Sammelfieber (02.06.2014)
Virtual Console (26.05.2014)
Pokémon-Generationen (19.05.2014)
Sandbox-Spiele (12.05.2014)
Nintendo-Zeitschriften (05.05.2014)
Musikspiele (28.04.2014)
Disney-Spiele (21.04.2014)
Komplettlösungen (14.04.2014)
Crossover (07.04.2014)
Eure Lieblings-Konsole (31.03.2014)
Puzzle-Spiele (24.03.2014)
Yoshi (16.03.2014)
Download-Spiele (03.03.2014)
Pokémon oder Digimon? (24.02.2014)
First oder Third Person? (17.02.2014)
Zusammen oder gegeneinander? (10.02.2014)
Handy-Spiele (03.02.2014)
Casual Games (27.01.2014)
Spiele wieder verkaufen (20.01.2014)
2D oder 3D? (13.01.2014)
Unerfüllte Kindheitsträume (06.01.2014)
Euer Spiel des Jahres 2013 (16.12.2013)
Winter-Level (09.12.2013)
Euer Einstieg in die Nintendo-Welt (02.12.2013)
Import-Spiele (25.11.2013)
Euer Lieblings-Pokémon (18.11.2013)
Professor Layton (11.11.2013)
Gruselspiele (01.11.2013)
Pokémon X & Y (21.10.2013)
Zelda (07.10.2013)
Nintendo-Animes (23.09.2013)
Videogame-Musik (16.09.2013)
Pokémon Day (09.09.2013)
NFC-Figuren (02.09.2013)
Remakes (26.08.2013)
Videogames VS Brettspiele (19.08.2013)
Animal Crossing (12.08.2013)
Mario Jump'n'Runs (05.08.2013)
Comic-Spiele (29.07.2013)
---
Datenschutzhinweis: Um Mehrfach-Abstimmungen bei den Charts zu verhindern, wird bei jedem Vote eure anonymisierte IP temporär gespeichert. Aus der anonymisierten IP ist es nicht mehr möglich, Rückschlüsse auf eure Person zu ziehen.